Welcome to Wilderness Dunes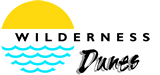 Wilderness Dunes has it all. On perhaps the most spectacular stretch of the famous Garden Route, this exclusive timeshare resort has direct access to the beach and is set against a backdrop of shining lakes and forests sweeping towards the slopes of the Outeniqua Mountains.
The resort developed by MagicBreakaways Leisure Developments and managed by Legacy Hotels and Resorts is rated as one of the top Gold Crown Resorts in Southern Africa.
This beachfront resort, situated on the dunes of Wilderness near George, in the Western Cape has been designed to ensure minimal disturbance to the rich indigenous fynbos.
The comfortable chalets at Wilderness Dunes are exquisitely furnished and designed for trouble-free self-catering holidays.
Deep-sea, rock and surf fishermen - reach for your lines. Hikers - pack your rucksacks for trails across mountains, gorges and rivers. There's golf, tennis, swimming, watersports, horse-riding and cycling. Plus long stretches of unpolluted beach on which to stroll, stretch out - and unwind.
The George airport is only 15 minutes away - and a picturesque steam train travels daily in both directions between George and Knysna.